What is IP65,IP67,IP68 exactly for led tape lights?
The IP bit stands for Ingress Protection, and this rating system was devised to not only standardise moisture ingress, it also relates to particle ingress such as dust.
The 1st number 6 relates to solids, whereas the 2nd number 5/7/8 relates to the level of waterproofing.
IP65 led tape light has epoxy resin coating or silica gel to protect LEDs from water splashes.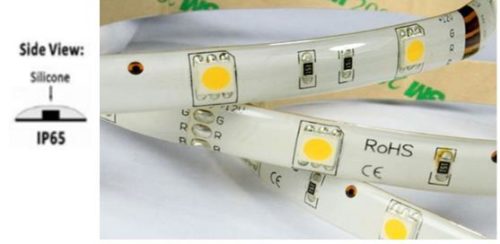 It's ideal for bar areas, however it should not be used in heavy waterfall places.Generally speaking, it is difficult to cut, solder or re-seal as the resin or gel coating has to be first scraped away carefully before re-soldering. Copin provide professional required length for you, OEM project is welcome!
IP67 led tape light has silicon tube as protection, which is extra flexible which can withstand temporary water less than 1m, but we don't suggest put IP67 underwater usage, but it can be immerse in water for a little while, but it's perfect for exterior environments and water-around area like pools, waterfalls, fountains. What's more, it can be cut and re-seal easily.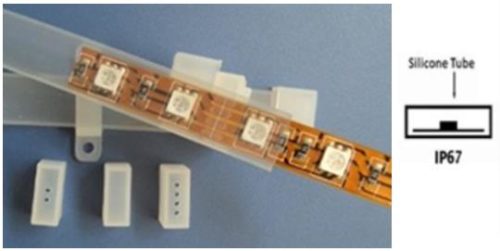 IP68 led tape light is injected/capsuled by liquid silicon, which is ideal for use underwater. Some clients have some experience that the underwater led tape becomes dirty or green on the PCB as time goes by. Actually it's related to the tape light quality. If the sealing is good, water will filter and the copper part oxidized. Copin offers higher quality level product with mini 2-year-warranty.
Copin have different waterproof levels for clients' options. Nowadays, people prefer to use extrusion and injection process for protections.